"My dad brought me up to believe that I could do anything I set my mind to; Confidence was never an issue but acceptance was."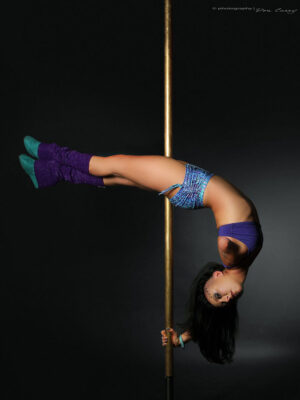 Aussie Hands member Deb Roach has had an incredible journey so far but it has been a journey with its ups and downs. There was constant bullying at school in Carlingford, North-West Sydney, but she was very imaginative and creative which helped her find inspiration all around her. Deb says, "My dad brought me up to believe that I could do anything I set my mind to; confidence was never an issue but acceptance was."
Deb always wanted to dance and loved jazz ballet but was once told by another student that, "I was a broken line, aesthetically displeasing and that I would never make it as a dancer." Deb suffered depression for some years, gave up dancing and partied hard to escape herself. After suffering from pneumonia and a visit to a hospital she realised she had to change her attitude about life and her own capabilities.
Deb had concentrated on her academic achievements and ended up working in IT. She started running and going to the gym and became addicted to exercise and fitness. In her early twenties she started dance classes with Jason Liu-Brennan who told her to stop fighting herself, stop overthinking it and to let her body move. She said, "I realised that it was my own anxiety and negative self talk that was holding me back." She was challenged to try pole dancing after a conversation with some pole dancers at a club she was stage dancing and DJing at. Deb found her groove, won some competitions, and quit her successful IT job.
She followed her passion to London in 2014 and stayed for nearly four years, where she worked at the London Performance Academy and toured through the UK and France with Extraordinary Bodies – the circus for everybody. Whilst there she trained with world champion pole artist Kate Czepulkowski also known as Bendy Kate.
Deb's strength and determination are evident as she won her division in the International Pole Championships in 2012, 2015 and 2018. Deb now has a pole dance studio/business at Blacktown called World of Pole with a community she loves and a life far from those school days in Carlingford. Along with her studio and teaching she also judges pole dancing, is a Vinjasa and Yin yoga, Barre Pilates and fitness instructor, and has been an integral member in a number of awareness groups. Deb has written an eBook called Pole Translation: The Ultimate Guide for Instructors Wanting to Teach EVERY BODY and has a TEDxUCLWomen talk; Beyond Intersection, Towards Integration that promotes inclusion. Deb was even on her way to the Paralympics as a cyclist but it was pole dancing and now World of Pole that became her comfortable space.
World of Pole is where some of our Aussie Hands kids met Deb. Deb started with a version of "What's the Time Mr Wolf". She said, "There is no way you can get a full hour of pole out of kids as they have such short attention spans. So you start with a game, do some exercises, get some hard work out of them and at the end you just make it fun and loose."
It worked as the kids started out shy and unsure but ended up having a great time and really made some progress on the poles and were probably a bit surprised with themselves as well. But it isn't surprising really with Deb as a teacher. She shared, "In all my learning and training, my number one takeaway is to take away the rules, as you really unlock peoples potential when you say 'we are going to develop a pathway together, rather than this is the box I come from, try and fit inside it'." Great advice for a society that is still disassembling and dismantling attitudes and stigmas that no longer support society as a whole. Something that Aussie Hands members are certainly aware of and struggle with at times.
NSW Coordinator, Josephine D'Ambrosio, was there with daughter Kiera, and said, "It is so important to hear and see inspiring stories like Deb's to show our kids what is possible if you believe in yourself and never give up." Josephine continues, "I do not see differences as a disability but as an opportunity. We all have something to offer the world and it's our diversity that enriches our life experiences and communities."
Mandy Leslie who was also there with twins, Callie and Phoebe, agrees, "It is nice to see people just showing how capable they are in the world and that a disability doesn't mean your only option is to be a Paralympian, that your body can be capable and resilient and have different talents in different avenues – in artistic endeavours like this. It is okay to break the rules and not listen to anyone else, it's a good lesson in life for anyone."
I asked Deb what advice she has for our Aussie Hands kids and she said, "Just to empower them, give them the opportunity to express themselves, to fall in love with and try new things, follow their passion and build that confidence in them that nothing will ever stand in their way. To my parents it may have seemed like I was deaf for 22 years and that I didn't understand, but eventually it will resonate."
Thanks to Josephine D'Ambrosio, Mandy Leslie and Verity Meager for organising this opportunity for the Aussie Hands kids to try something new and different. It was a great lesson for all of us.
Thanks to Deb Roach for her time, workshop, wonderful words and inspiration.
by Lily Toengi-Andrews