My Child Has A Hand Difference
Hi my name is Aimee. I'm married to Clint and we live in Pinnaroo South Australia with our two boys; Xavier, 4, and Arlo 2. We have a baby due soon. Arlo was born with symbrachydactyly of his left hand. It came as a huge shock to us, as it hadn't been detected. I remember being on cloud nine when he was born and then feeling like the bottom had dropped out of my world. I was scared and lost and just acted on autopilot trying to process it.
We had delivered in a small rural hospital and no one knew what his difference was or where to send us for more information. We were referred to a specialist in the city and eventually got a diagnosis months later.
In the meantime, I developed post-natal depression and was struggling to find help. No-one seemed to know who to refer us to for help – and being geographically isolated meant we would have to make a five-hour round-trip for each appointment. This wasn't ideal with a new baby and a toddler.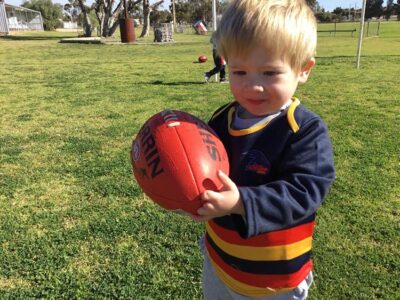 As a result, two-years later, I am still struggling to come to terms with it all – although I have got a lot better. I used to walk into a room and if people said something negative or stared, I'd burst into tears instantly. I remember once when Arlo was only a few weeks' old, a young child made a comment about how 'weird' his hand looked. I cried for two days straight afterwards.
I've found it difficult with children who are repetitive with questioning: 'why is his hand like that?' once I've answered the first time. (I always say that's just how he was born). But I'm learning to not get so flustered. I never worried about functionality.
I knew Arlo would find a way to get things done his way. My heart just hurts for the adversity he might face or any negative thoughts he might have about it. Arlo is cheeky and determined and I'm yet to find anything he can't do.
He's in childcare and the care providers have fielded a few questions about his difference by saying he was born with it and that the difference is just like the difference between brown and blue eyes. He sees the same kids all the time, so I think they are used to it now.
I still get nervous in strange places or with strangers but I'm working on it. Xavier noticed Arlo's hand for the first time when he was nearly 4. He said "Mum Arlo has little fingers, I have big ones" and that has been all he's said so far.
I found Aussie Hands by chance in the hours after I had Arlo when I couldn't sleep for worrying. I emailed about his hand 'deformity' and I remember that when Elizabeth replied she had changed it to 'difference'. That stuck with me.
I spoke to Elizabeth when I got home and I remember her telling me I would one day not even notice it and I didn't believe her because it was all I saw. But she said he was not just a hand, he was Arlo with a hand difference. I focused on that and as he got older and started to develop a personality it became a lot easier to see.
We went to our first Aussie Hands South Australia event in 2018 and it was so great to be around other families in the same situation. Being rural can be very isolating, so it was great to not feel alone. I look forward to going to more events in the future.