A special fit – Tom's grasp on prosthetics and link to Aussie Hands
Fiona Passmore
What ignited Tom's interest in prosthetics, what has he learnt and how has he helped the Aussie Hands community?
'My pop lost his finger in a go-karting accident and although he didn't wear a prosthesis, this must have aroused some curiosity in me,' remembered Tom.  'My imagination and interest were further captured by my year 10 history teacher who had done some aid work in Cambodia and chatted to me about the land mine victims over there.  I'm so grateful that he did as I've certainly found the world of prosthetics to be a rewarding and interesting way to earn a living.'
Tom could see that prosthetics would give him the ability to work with his hands and help people with their daily lives.  It also offered the chance to meet different people of different ages from diverse backgrounds and with unique stories. 'Every day is so varied. The opportunity to combine clinical and technical skills with all the people you meet means every day is different,' he added.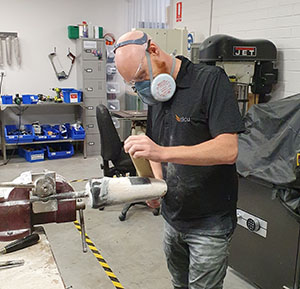 Lower limb prostheses are primarily to help you walk and be mobile, but Tom finds working with upper limb differences more investigative because of the many and varied skills we use our hands for.  'Just think for a minute about the various steps you take to make a cup of tea or coffee and the different hand movements required: holding the kettle, turning on a tap to fill it, gripping a mug, handling a teaspoon, squeezing out a teabag or unscrewing lids.  It's an everyday task most of us don't even think about,' explained Tom.  'People who are born with a hand difference often develop their own unique ways of doing things, but for those with acquired amputations or hand differences, it's a bigger learning curve getting used to doing things with a prosthesis or assistive device. But children in particular are quick to adapt and very willing to give honest and practical feedback,' he added.
Interestingly Tom talks about his 'clients' rather than referring to them as 'patients' because he and the team at the TLCU clinic (formerly The Limb Clinic Unlimbited) in Perth consider their clients to be actively choosing their provider and engaging in their personalised prosthetic service.  That's a positive and important distinction to make in the health arena.
Most upper limb differences are acquired through workplace or road accidents but many are finger amputations which often don't need a prosthesis.  An upper limb difference could be a partial hand, partial palm, lower arm (trans-radial) or upper arm (trans-humeral).  Upper limb amputees make up approximately 3-15% of all amputees and approximately 8% of these are congenital (present from birth).
Every prosthesis is custom made to suit an individual's specific needs, so it's not a 'one size fits all' approach. 'I've learnt that you have to apply good communication and listening skills, talk through the different options, find a solution and ensure you use a collaborative approach with clients to create a highly personalised device,' explained Tom.  Clients can customise their prosthesis even more by choosing different cosmetic designs, such as something metallic, in an animal print, multi-coloured or with a favourite character printed on it.
'Each person has an important voice in their health care and they need to be heard throughout the process.  You build a partnership with them and those ongoing relationships are a very special part of the job,' said Tom.
The introduction of the NDIS (National Disability Insurance Scheme) in 2013 has given more scope to obtain prostheses for specific tasks such as kayaking, bike riding, skipping or riding horses.  It also allows clients to access many kinds of support, whether it be for physiotherapy, occupational therapy or prosthetics.  Tom's advice is: 'It's a big system and some health clinics have NDIS specialists who will help you navigate through it. Take the time to build a supportive team and don't be afraid to ask questions.'
The four broad categories of prostheses available are:
Activity specific – such as for bike riding, fishing or kayaking.
Passive – the hand is stationary with no control or change of grip and is used primarily for cosmetic purposes or to provide an opposing hand.
Body powered – where body movements open and close the hand.
Externally powered – myoelectric hands use muscle signals to control them and can offer a range of grip patterns. Myoeletric hands/arms tend to be more fragile than the others but can come with water resistant capabilities.
As many of us discover over the years, mechanical or electrical devices don't always work the way they should.  One of Tom's clients was nearly accused of road rage when the middle finger of his prosthetic hand got stuck in a vertical position while he was holding the steering wheel.  Tom quickly fixed this so the guy wouldn't get caught on dash-cam and be reported to police!
Another mishap that Tom has learnt to avoid is getting covered with resin if the bags burst open during the lamination process.  This material sets within 10-20 minutes so there is a sense of urgency to get it cleaned up quickly before you end up being moulded in plastic!
A less hazardous part of the job was helping Aussie Hands with their new Online Resource Toolkit (which includes expert information, lived experience stories, tips and services for people with a hand difference and their families) when Tom provided some helpful suggestions for those considering a prosthesis.  'We have the Resource Toolkit flyer displayed in our waiting room and I always refer new clients to the Aussie Hands community.  Quite a few of our clients have their own story on the website and they enjoy going to the social events,' he concluded.
Having Tom as part of the Aussie Hands community is a real bonus and we're pleased to hear that he's willing to lend a hand for future projects.
Thanks Tom for letting us look at the world of prosthetics through your eyes and your story.
You can help Aussie Hands continue to support its work by making a donation.