Shirts, T-Shirts & Jackets
To put garment on, place the arm with a hand difference in the sleeve first. To remove the shirt or jacket remove the dominant arm from the sleeve first, then use that arm to take off the rest of the shirt.
Neck Tie
Tying a tie with Windsor knot – a clear demonstration using two hands but can be modified for one hand
Pants
If the child is using their affected arm to assist with pulling up pants, a loop sewn inside the waistband of the pants on the affected side can be used to hook a finger, the hand or forearm through to pull the pants up.
Socks
Loops can also be used on the inside of socks to help pull them up.
Buttons
You can leave buttons done up and slip the garment over your head
Look for clothing with press studs instead of buttons
Velcro tape can be sewn under buttons
Sew buttons with elastic thread
Button Aid – 4 in one dressing & other button aids.
Watch Videos – Aussie Hands members Amelie and Ella demonstrate how they do up their pyjama buttons
Watch video: demonstrates how to button your jeans up with one hand using a homemade device and a door handle to assist.
What our Members say  "A general determination and self-belief – my 4 year old buttons his own shirts one handed by drawing the 2 sides together and manipulating the button through the hole."
Zips
A zipper pull, split ring or ribbon loop as well as other zipper aids can be attached to the pull tab if a finger can be used to hook and the pull tab cannot be pinched.
Watch video: Zipping up a jacket with 5 year old Sam from My Special Hand and Ryan from Living One Handed.
What our Members say   "Avoid side zips with buttons…put it [skirt] on with the zip and button at the front and swing it around."
Bras
Try an elasticised crop top to put on over your head or step into
Try a front fastening bra
A back fastening bra can be fastened at the front (around your waist) then twisted around to the back before putting your arms through and pulling the bra up
No more hassles with hooks!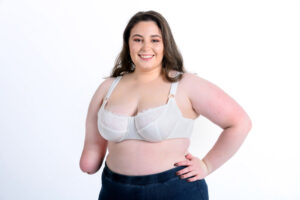 You can now choose a one-handed bra from BraEasy which is easy to put on and take off using velcro openings.  Tried & tested by people living with a limb difference, disability or just a broken arm, these bras allow users to dress quickly, easily and independently.  Check out their website at www.braeasy.com
What our Members say   "Do it up at the front and either twist it around or do it up and put it over your head like a t-shirt."
Try shoes with different fastenings such as buckles, Velcro fastenings, elastic or crazy laces or slip on shoes
What our Members say  "My mum made a cardboard shoe with real laces and I spent time doing it both with and without her until I gained success. I did this before going to school."
Watches
Try an elasticised expansion watchband.
Necklaces
Long necklaces are easier to fasten than short ones
If long enough the necklace can be slipped over your head
Large clasps and loops are easiest to handle
Magnetic Clasp Converters can be purchased to attach to your necklace clasp for easier application
Earrings
Hook, clip or sleeper type earrings are easier than studs
Bracelets
Try an elasticised bracelet
Bracelet fastener – this device assists in fastening a bracelet around the user's wrist. The bracelet fastener controls one end of the bracelet whilst the user holds the other. Fits all wrist sizes.
Magnetic Clasp Converters can be purchased to attach to your necklace clasp for easier application
Watch Video A woman demonstrates clipping her hair up and applying a variety of jewellery that is suitable for a person with one hand
What our Members say  "Jewellery… buy gold and leave it on forever! Or you will need to ask someone(s) help or be a contortionist and use your teeth to get bracelets on."